This is a brand new Extreme Dimensions B-2 back bumper for a 98-02 Accord 4 Door. Very good quality fiberglass back bumper using Duraflex which combines fiberglass, plastic, and flex resins to obtain its unique features, including improved strength. The Duraflex technology obtains a much higher durability rate than the average fiberglass product. Has small spider crack 4 inches long on one of the sides besides from that great condition. Location is in Palmdale, CA. Im asking $110 you will have to provide your own shipping company and take care of shipping fees yourself. My email is
Willb2305@yahoo.com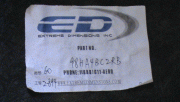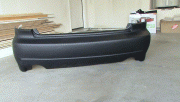 I also have if anyone is interested.
FS: Most parts needed for 5 Speed Conversion for 98-02 Accord 4 cylinder.
awhile back I was planning on doing a 5 Speed Swap into my 99 accord automatic. I have most parts needed for the swap all parts are brand new from the factory and I still have receipts from the honda dealership for most of the parts. The only parts you will need are a clutch, flywheel, 5 speed axles and starter. The rest of the parts I have. Make me an offer for the whole setup minus the clutch, flywheel, axles and starter. Or if you just need individual parts and I can take pictures for each part upon request.